Whether it's for an awards ceremony or a corporate event, a TV show or entertainment, a shopping centre or an urban, architectural, or business installation… Whether you're an architect, company, city, theme or amusement park, a museum, or a hotel and retail investor…
Painting with Light is the leading specialist in the design and production of total visual experiences – including light, video, sound, and special effects. We focus globally on various areas such as leisure and entertainment, and offer a complete custom approach for your project. The scale is subordinate to the content!
We believe in offering added value to our customers by creating captivating and unforgettable memories for their audience. Owing to our explicit focus on quality, we are the proud recipients of several prestigious awards. Brimming with ambition, we want to continue to push boundaries in developing powerful visual imagery and evoking strong sensory emotions.
Are you looking for a unique interpretation of your location? Business, culture, entertainment, or commercial: check Locations to see how we provide each location with the right added value.
Looking for amazing experiences? We can provide them! By creating immersive stories and unique experiences. Check Creations to discover the creative visual boost we can lend to your project.
Locations
Creations
We focus on highly strategic and visibly located project sites where a partnership with PWL and Signify always results in our architectural and sustainable buildings getting that extra touch which sets us apart in the market. With the PWC campus, our collaboration has again succeeded in strengthening the architectural quality thanks to a thorough conceptual study and ditto technical approach. In this way, just like the Ghelamco Arena, the PWC campus will also become a sustainable landmark on an important traffic axis in Belgium.
The tracked projection on the moving objects was very innovative. We will work together on a new concept for the next ISE at Barcelona to define the next step in light and projection technology and infuse more innovation. The major advantage is that PWL is active so many vertical markets across mulltiple applications.
Painting with Light is our first choice as a partner for lighting design, we can't develop this level of expertise internally. The price setting is excellent compared to competitors.
PWL has a unique combination of creative and technical skills. I do not know anybody else in the market like this. They matured and now sit at the table as a valieued stakeholder from the conceptual phase for their creative advise. For me they are the reference in the leisure and entertainment industry.
Light changes everything! It is such an important component, but its role and impact is usually heavily underestimated, also by the public. Budgets limitations sometimes prohibit innovation but I'd like to see more of their creative ideas like in the 40-45 musical in other productions.
Painting with light delivers what it promises! Creative, conceptual and involved is their strength and working method. The animation of the "Roermondje" jumping over ten buildings and locations perfectly depicts the DNA of the city center!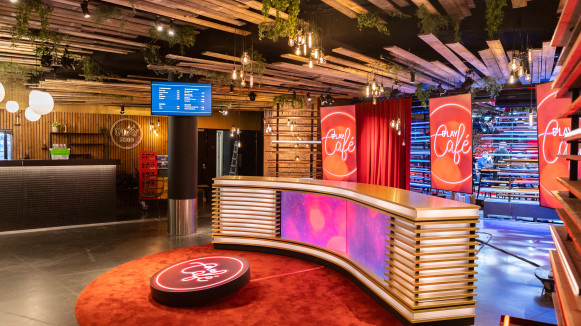 Play Zuid has been officialy opened!
Play Zuid is a versatile event venue, spread over two floors, in the former Zuiderkroon. The location is suitable for the filming of various TV broadcasts, but can also be used for corporate events. In addition, it is a real experience space where visitors are fully immersed in the TV world.
Read more...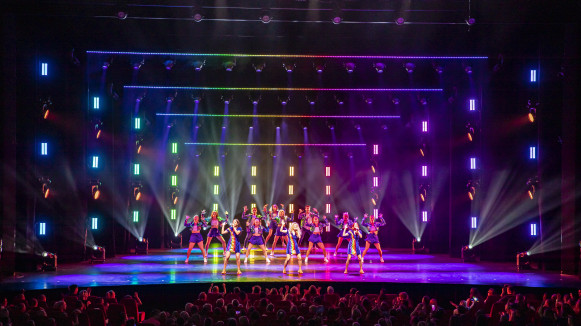 K3 is back on the road again!
K3, the most successful Belgian-Dutch girl group of all time, are back on the road again and enjoying performing live shows again with lighting designed by Jeroen Opsteyn from PWL.
Read more...